A Travel Guide for Sagada, Mountain Province
Updated Jan 4, 2010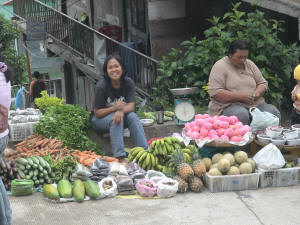 1) Saturday morning street market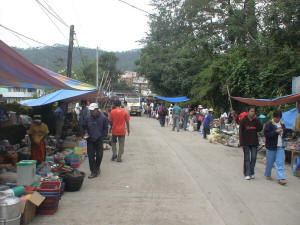 2) More Saturday morning street market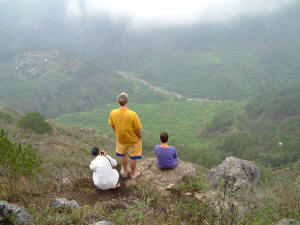 3) Stunning views from Kiltepan Tower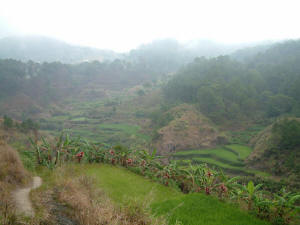 4) Early morning in the rice terraces
, just behind St. Joseph's - pathway to Datil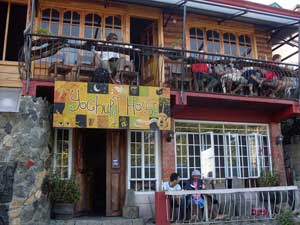 5) The Yoghurt House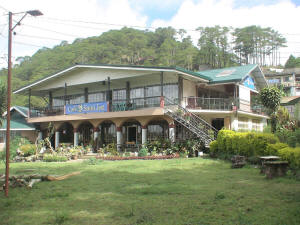 6) Café Saint Joe - On the same grounds as St. Joseph Rest House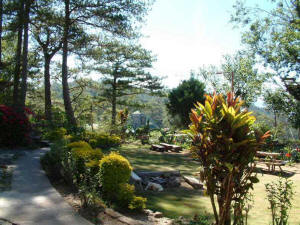 7) View from Café Saint Joe - Saint Joseph Rest House gardens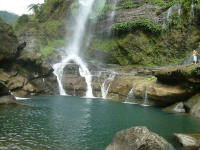 7) The Big waterfall
(Bomod-ok)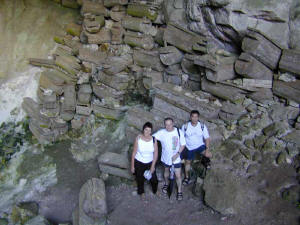 8) Burial cave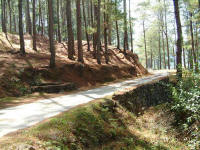 9) The road to Suyo
- past the burial cave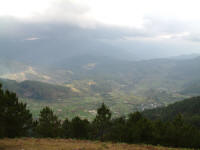 10) View of Eastern Sagada valley from Mt. Ampacao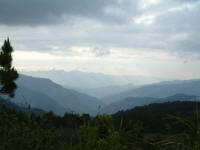 11) Northern view from Mt. Ampacao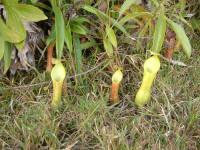 12) Pitcher plants at Mt. Ampacao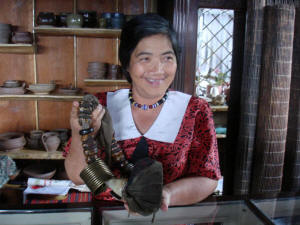 13) Ganduyan Museum
- Christina with favorite traditional money belt where beads and gold jewelry were kept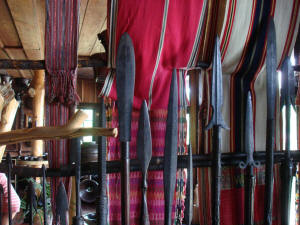 14) Ganduyan Museum - Balbeg –A collection of spears used for hunting and as weapons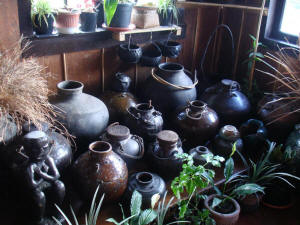 15) Ganduyan Museum - Antique Chinese trade jars used for making rice wine (tapey), plus 2 large locally made black jars for holding sugar cane wine (basi)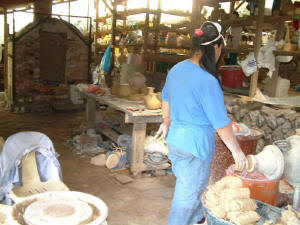 16) Pottery workshop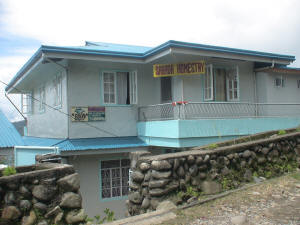 17) Sagada Homestay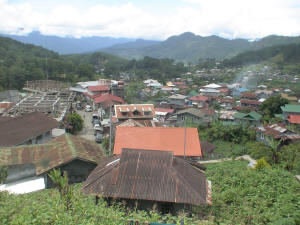 18) View from Sagada Homestay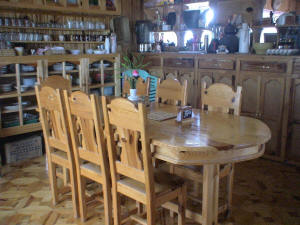 19) Sagada Homestay Dining Room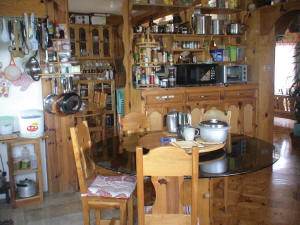 20) Sagada Homestay kitchen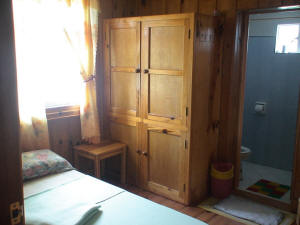 21) Sagada Homestay bedroom with private bathroom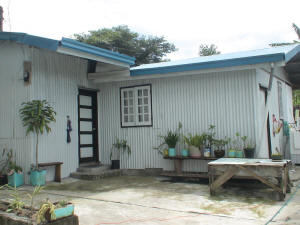 22) Sagada Homestay 2 bedroom cottage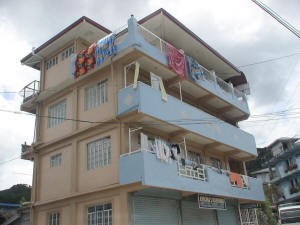 23) Canaway Resthouse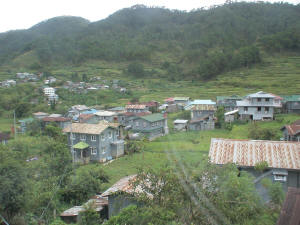 24) Canaway Resthouse - View from rear window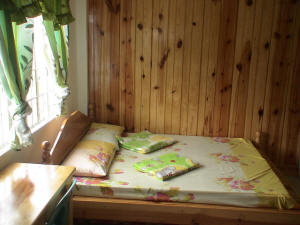 25) Canaway Resthouse bedroom second floor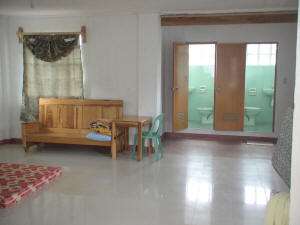 26) Canaway Resthouse bedroom third floor - soon to become 2 bedrooms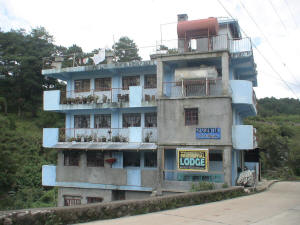 27) Residential Lodge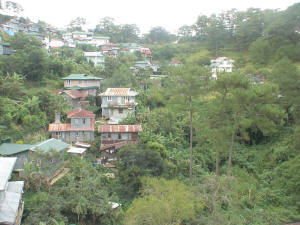 28) Residential Lodge - View from rear window 2nd Floor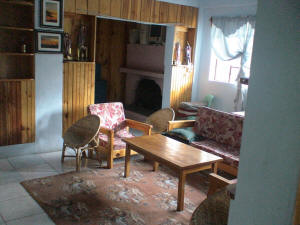 29) Residential Lodge 2nd floor common room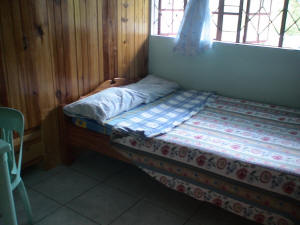 30) Residential Lodge bedroom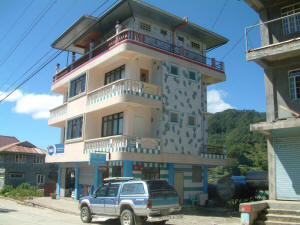 31) George Guesthouse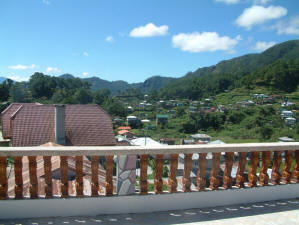 32) George Guest House view from balcony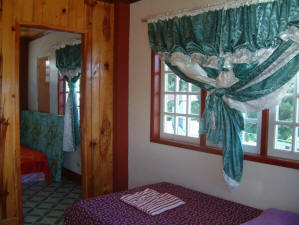 33) George Guest house double bedroom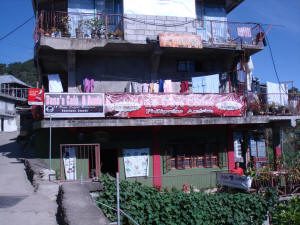 34) Travellers Inn - top floor
Bana's Café - bottom floor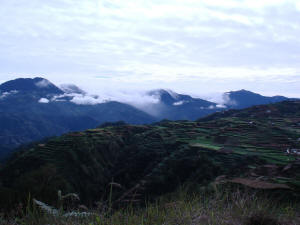 35) View from the Halsema
Road between Baguio and Sagada - early morning January 2, 2009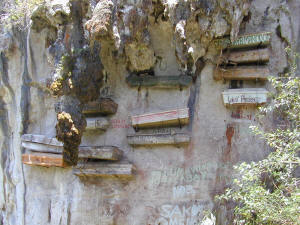 36) Hanging coffins in Echo Valley
Arriving in Sagada
The thing that struck me on my very first entry into Sagada in 1999 was how pretty it is – the abundance of flowers, pleasant architecture, lots of trees, dramatic limestone outcrops and beautiful views down the valley. It stands at 1500 meters above sea level, so enjoys a climate influenced by altitude and freshness. The pines that blanket the surrounding mountains provide a dramatic backdrop for this unique community.
Sagada is a prosperous town comprised of mostly farming families and others associated with agriculture. There are no tricycles here, which is a silent blessing. The quality of education that has been available here has been high, especially with the older generation. Intelligence displays itself as a community trait and the peacefulness and stability of the community is obvious at once. Very good English is widely spoken as the second language, rather than Tagalog. The Episcopal Church (Church of England) was the first to arrive here in 1901and be accepted, which has resulted in a unique spiritual partnership between the traditional ritual observances and the Christian. The community today is predominantly Episcopalian which adds an interesting slant in a country which is about 85% Roman Catholic.
There are many things to do in and around Sagada. If you're like me, you'll love the peace and quiet of the place, its beauty and freshness, the friendliness of the people and the ease with which one can move around. I know that one thing you can do here is rest, read and sleep. You can also walk, trek, go caving, camping, eating etc. One thing you will not find here is a jumping nightlife, unless you bring it with you.
If you have your mind set on adventure and packing as much into as short a time as possible, by all means go to the caves and waterfalls, all within a couple of days, but if you have plenty of time, Sagada is one of the exceptional places in the Philippines where you should consider spending some extra time. The accommodation is cheap and there are so many beautiful walks to go on that even a week may not seem long enough.
About the July, 2009 Update
I visit Sagada about 4 times a year and have been doing so for the past 10 years. Going so regularly makes it difficult to pick the gradual changes so I decided on this July 2009 8 day visit to put on some fresh eyes and do a complete Sagada update.
Until very recently, most of the tourists were adventurous foreign backpackers; today they are predominantly Filipinos coming up from Manila. The Halsema Road, the once tortuous track that links Baguio and Sagada, is almost completely concreted now making it possible for "city" vehicles to make the journey. As a consequence of increasing Filipino tourist numbers, there has been an upsurge of new accommodation and souvenir shops to cater for them. Sagada though is a resilient and strong community and it has been able to maintain most of its character in spite of its increase in visitor numbers.
I have noticed a couple of negative effects on Sagada from the increase in local tourism. The once good range of artistic t-shirts have been replaced with kitsch "I Survived Sagada" t-shirts. Litter around the area has increased, especially around the caves and in echo valley.
Unfortunately the centre of Sagada is becoming rather ugly because of the new local government buildings and new commercial center under construction. This is not a result of tourism and the three or four eyesores only affect a very small area in the town centre. Hopefully these buildings will get a makeover soon.
Accommodation
Guest Houses with Guest Cooking Facilities - Many of the guest houses now have cooking facilities for the use of their guests which can reduce your travel costs significantly if you are on a tight budget, especially if you are part of a large family as it can be expensive to feed them all on restaurant food for three meals a day. Note though that if you want to do your own cooking, there are no maids in Sagada to clean up after you, so you will probably need to do it all yourself, including washing all your pans and dishes. I have been told that Westerners are generally more domesticated than Filipinos.

Sagada Home Stay - I had a look at it for the first time this July, 2009 and was impressed. My immediate thought was how are most others going to match this combination of price, newness, cleanliness, location and fantastic views. The place is probably more like a Guest house than a home-stay but that hardly matters. Downstairs there is the large dining room adjacent to a large well equipped modern kitchen for the use of the guests. Everything you would need to create a banquette is there if you like - gas stove, toaster oven, microwave, pots, fry pans etc. A small donation is required to cover the cost of gas and you will of course need to pay for any consumables that you have used. Upstairs there are 6 bedrooms, most with fantastic views over Sagada town center. One bedroom has a private bathroom (P700 for the room) and the five other bedrooms share 4 bathrooms between them. (P250 per person). All bathrooms have hot showers.
Unlimited Wi-Fi is available at P40 for a day and there is a computer available for emails and surfing at P40 per hour.
There is also a separate outside cottage which is available for P1,500 per night. It has two separate bedrooms, a bathroom and kitchen and accommodates up to 4 people. I did not see inside because it was occupied at the time.
Sagada Home Stay is located about 200 meters from the bus stop in the center of town. To get there, walk up the hill past the Log Cabin and take the lane on your left at the right hand bend in the road. You can't miss it and it is only about 200 meters from the bus stop. If you have your own car, just continue along the road and it is only about 50 meters past the first left hand bend. See pictures 17 to 22
Sagada Home Stay has made it to the new 2009 Lonely Planet Guide so I would assume that it will become quite popular soon. Booking require a 50% non refundable deposit, except during Christmas and holy week holidays where you need to pay in full. (payment by bank transfer)
Contact Karen - sagadahomestay@yahoo.com +63 919 702 8380 +63 918 717 3524 +63 919 498 2181
Log Cabin Guest Room - The room above the Log Cabin Restaurant has always been my first choice in accommodation, but there is only one room. It is one of the most comfortable rooms in town, with its own bathroom (very nice), cozy décor and its own private balcony and a partial view down the valley. This would be a lovely place for two people and the cost is P800 per night. Booking is essential. The kitchen downstairs makes great coffee, but meals must be ordered ahead. Evening meals can be served in your room or on the balcony. For reservations, call Dave Gulian 0920 520 0463.
Canaway Resthouse - Very cheap at P200 per person for rooms with private bathroom and hot showers. The rooms are new and clean and look very nice. Children under ten years old are usually free making this a good choice accomodation for large family groups. There are three bedrooms on the second floor that join onto a small common room. This room has a couch and TV. Each room has a private bathroom. Two of the rooms have a double bed and the larger room has 2 double beds. There are two rooms on the third floor, each with private bathroom and a balcony with great views. Outside on the 3rd floor there is a sink and area that can be used for cooking if you want to cook your own food. Cooking equipment can be supplied and you will only need to pay a small amount for the use of the gas. It is not set up in a way such that you can just cook anytime you like, as in most other places that have kitchens. See pictures 23 to 26. There is also a downstairs kitchen that can be used by the guests also.
Canaway is right next to George Guest House and across the road from The Residential Lodge, about 400 meters down the hill from the center of town.
Call +63 918 291 5063 (0918 291 5063)
The Residential Lodge - It is opposite Canaway and next to Travellers Inn. This looks like an old place that has had a major face lift, and it does look fairly new inside. With 14 rooms over three floors, it is quite a big guest house. The best room, which is on the second floor, has a private bathroom and bath tub and is P250 per person, even for one. All rooms with private bathrooms are P250 per person and those with share bathrooms are P200 per person. All bathrooms have hot showers. The common areas are large and there is an open fire place on the second floor. There are kitchens for the use of the guest on the lower ground and ground floors. The lower ground floor is still mostly above ground level as the building is on the side of a hill. See pictures 27 to 30
Contact Mary Daoas +63 919 672 8744 eldone21@hotmail.com standaoas@yahoo.com .
George Guest House - It is next to Canaway and you can't miss it – it is the most colorful and garish building in town. The interiors are similarly decorated, but the building is new, so all is clean and fresh. All bedrooms have private bathrooms. My choice would be one of the two rooms at the top. There is one room with many beds and costs P200 per person for 6 persons. One double room has a TV and is P600 for the room. The other double rooms are P300 for one person and P500 for two. These have hot showers. The views are lovely. See pictures 31 to 33
For reservations call Dora – 0918 548 0406 or 0920 607 0994 - Email george.guesthouse@yahoo.com
Travellers Inn - A low cost guest house if prissy decor is not your thing. There is no newness or much luxury here, but sometimes that can be nice, especially since the prices are good. This is the type of place where and you are likely to meet "travelers on a shoe string" with whom to compare and share travel stories. There are 14 rooms on two floors of which 2 have private bathrooms. There is a kitchen on the second floor for the use of the guests. All rooms with private bathrooms are P250 per person and those with share bathrooms are P200 per person. The rooms with share bathrooms are P175 if you stay more than 3 days and P150 if you stay a week or more. Lope (pronounced Lopi) is an interesting character and a very good artist/potter. Downstairs Lope also has a souvenir shop where he sells his pottery and they have a well stocked general store down there also. Travellers Inn is down the road from the Municipal Hall road and just past the Yoghurt House Restaurant on your left. It is also next to The Residential Lodge. For Inn reservations call Lope Bosaing - +63 920 799 2960 or email aprilmay_25@yahoo.com or lopebosaing@yahoo.com.ph .
Saint Joseph Rest House - With 27 rooms and cottages, this is the largest guest house in Sagada. It is directly behind the bus stop in the centre of town so not far to walk with your bags. Owned by the Episcopalian church, these buildings were once part of a seminary and the guest house is still managed by officers of the church. The rooms and cottages are set in beautiful gardens which is one of its major draw cards. A wide variety of room types and rates are on offer, from dormitory accommodation to private cottages. Some of the rooms are good value and others are not, so check out lots of rooms before deciding on one. The rates are per room and not per person. The 2 person rooms with share bathroom, without hot water, starts at P500. Discounts of about 20% are available for
Note that during the months from January to May end, they often suffer from water shortages. You may have paid for a room with hot water, only to find that there is no water at all for your whole stay. I have seen a few guests get irate, especially when they still have to pay for the amenities that they did not get. The very large Café Saint Joe is also on the grounds.
To get there, take either one of two ways up, both by steps and a pathway from the main road behind the bus stop and head towards the white building at the top. If you are in a car, take the right fork in the road past Ganduyan and enter St Josephs from the back car park, where your car can be left securely overnight. To see a detailed copy of their room rates, click here. Contact: Ms. Julia Abad 0928 951 7156
Mapiya-aw Pension - This is a good choice if I was looking for peace and quiet.The garden is lovely. There is a feel about the place though that there have not been any guests for a long time. Mapiya-aw Pension is about 250 meters off the main road. You would have passed the sign on the way into town - the sign says it is only 50 meters to the guest house which is not true. The Pension was purpose built, all unpainted wood, cozy and there are 16 rooms. In winter you can use either or both of two fireplaces on request. The upstairs fireplace would be gorgeous with friends during the winter months. Balconies are abundant, which is always nice. Rooms are P250 per person (cold shower). There are two double rooms upstairs with adjoining bath rooms which have hot water. These rooms are P1,250 each. Meals can be prepared for you if you order ahead and the kitchen is available for your own meal preparations for a reasonable fee. The walk into the centre of town takes about 15 minutes. For reservations call 0921 390.0560.
Ganduyan Café and Inn - In the center of town and part of the building incorporating the Ganduyan Museum and Ganduyan Souvenirs. This is one of the very earliest guest houses in Sagada and still popular at a cost of P200 per night with share bathroom. The rooms with private bathroom and hot shower are P600 and accommodates 2 people - maybe a little expensive. Downstairs is a small café where you can have a good breakfast of bacon, eggs and brewed coffee.
Sagada Guest House - It is right in the center of town just behind the new ghastly municipal building under construction. Normal rates are p150 single, p300 double, share bath. P600 for 3 beds, bathroom with hot water. Rooms go up in elevation and price to p800, p1000 and p1200, with kitchen, bathroom with hot water and one with cable TV. These rooms can accommodate 3, 4 or 5 persons. Rooms at the back can be noisy in the mornings with roosters, dogs and pigs giving it their best. There is a rooftop available for viewing the vistas. To see a picture of their room rates, click here. For reservations, speak to Manang Veron, 0919 300 2763.
The Green House - This is an old establishment, inexpensive, no class, and popular with young backpackers. There are 6 very basic bedrooms with 3 share bathrooms. The two single rooms are P200 each.The two double bed rooms are P300 each and the 2 rooms with 2 double beds are P400 each. Guests can cook there own food. The green house is located on the right, about 50 meters down the hill past the Municipal Hall, behind the Persimoon Café (a popular drinking place). Phone 09184036571
Rock Inn
- It is about a 40 minute walk out of town and people who stay there usually have their own car. The junction to Rock Inn is a little before you get to Sagada and then it is about a kilometer to the guest house from there. It is set in an orange orchard, so the fresh juice is a must. This facility, which is relatively new, can accommodate large groups and would be useful as a retreat or seminar venue. The dining room is very beautiful architecturally, but I can't speak for the food because I have not eaten there for a long time. The attic room can accommodate 18 people at P250 per head. The bunk rooms start at P450 per person making it very expensive in comparison to other Sagada accommodation There are some "executive" type rooms which may be reasonable value per head. If you have a car, there is nothing to stop you from driving around and comparing it to say St. Joseph's Guest House.
Tel +63 920 909 5899
Restaurants
General - Restaurant food is reasonably priced in Sagada and a typical breakfast or main course will cost you about P130, but there are cheaper cafe's. There is no restaurant that has their act completely together though, meaning, the right combination of value for money, ambience, good/friendly service and quality of the meal, but, in comparison to most other places in the Philippines, Sagada will feel like food heaven. If you are a Filipino from Manila, don't expect Manila standard service.
Log Cabin Buffet - The buffet on Saturday night at the log cabin is not to be missed. For P350 you get a buffet of many courses prepared by a local French chef. Some of the best meals I have ever had in the Philippines were eaten here. The service suffers a bit during the peak season so you may need to be patient, but there is hope that young Jeffery will be up to speed before the next peak season.
It is virtually impossible to get a seat for the buffet without booking early, which sometimes means days ahead. You must pay a P100 deposit per person with your booking. If you don't, you should assume that you are not booked in, regardless of arrangements made over the phone.
Yoghurt House - is a short walk down the hill and remains one of the favorites among visitors. Yoghurt dishes are, of course, a specialty, served with fruits, granola, pancakes, or mixed as a salad dressing for fresh local vegetables. Pasta, salads, vegetarian meals are all available here. The food is consistently good and it is very popular with foreigners especially. See picture 5
Co-op Canteen - is just inside the mission gates as you walk towards the Episcopalian Church. They serve fabulous lemon meringue pie, banana cake or carrot cake. The coffee is good too, or you can have mountain tea. Meals are not served here. Almost all of the customers are locals so the prices are very low.
Strawberry Fast Food - Opposite the Log Cabin - A tiny no-frills restaurant which serves two of the simple but classic Filipino dishes, Arozcaldo, a chicken and rice stew which is a breakfast dish, and Mami, which is a chicken or pork noodle soup. Both dishes are about P45.
Masferres - A large restaurant in the centre of town - A favorite with Filipinos from Manila as it serves up the dishes they like and are familiar with - the food I like the least. The Masferres' photographs on the wall are a must to see even if you don't eat at the restaurant.
Log Cabin - It is open every night during the peak season and some nights during the rest of the year, depending on the number of guests. Meals should be booked and ordered before 2 in the afternoon during the low season. The menu is broad and offers European influenced meals, vegetables and salads, as well as the usual 'adobo' choices. If you want to make sure you get the best of possible meals, discuss your preferences with Janice if she is around. Wine is available. During the cold months there is always a nice fire to sit by and the ambience is that of a log cabin.
Café Saint Joe - is in the same grounds as Saint Joseph Rest House. Beautiful setting, lovely verandah upstairs, outdoor seating, recently refurbished. The menu on offer is extensive, Filipino, and generally agreed to be good. Generous servings of fresh vegetables can be expected. Bread, sweet and savory, is baked by the local chef and can be bought by the loaf. This café is open all day.
Ganduyan Inn - is in the heart of town and makes a good cup of brewed coffee. Bacon and eggs, bacon sandwiches, longanisa etc (breakfast food generally) is available here. No lunches or dinners are served, but breakfast is available all day.
Bana's Café - and Restaurant is situated under Traveler's Inn, just down the hill from the Yoghurt house. It is a pleasant café/coffee shop with both indoor and outdoor seating. If you are tired of Nescafé and 3 in 1, this place is a welcome relief - it is the only place in town serving espresso coffee. A variety of coffee styles are available, brewed, espresso or iced. Try one of their famous civet coffees, made from coffee beans excreted by a civet.
Persimoon Café - popular at night as the hangout for locals and backpacking tourists.
Cuisina Igorota - is almost unknown by tourists and serves typical Igorot food. It is best at lunchtime. You will find it behind St Theodores Hospital. Just go inside the hospital and ask. A meal costs P70 and could be pork stew, bones soup, pork chop, sinigang, adobo, chicken etc, all served with generous quantities of local vegetables. Coffee or tea isP10. There is no glamour here.
Bilig Café - is downstairs at the market, next to the Rural Bank. This is the old Shamrock, once the life of Sagada until it was transferred from its original position because of the development of the market building. Basic meals can be prepared there or you can just have a beer.
Cooking Your Own Meals - With the abundance of guest houses and home stays with kitchens for the use of the guests, consider cooking some of your own meals, especially if you are staying for a while. Freshly butchered pork and frozen or live chicken is available daily so it is not difficult to cook up a great meal for yourself, or dream up a banquet even. Delicious bread loaves baked by the local French Chef are available daily from St. Jo's Restaurant and other places. Etag is the name of the local bacon which is salted then smoked. Fabulous for soups and stews. There are at times smoked hams available also - to find out you need to ask the right person and that is probably Joanne at Café Saint Joe.
The market is open every day and cheap fresh vegetables are always available. These include, cabbages, carrots, a large variety of beans etc,
Oranges – September to May
Blueberries – end of summer, April to June
Wild mushrooms, 12 varieties – first 1 to 2 months of rain, May to July
Strawberries – end of rainy season, after sun, October to December
Local honey - Look for the square bottle where the honey is light colored and runny - not always available.

Saturday Market
In the heart of town, popularly known in the Philippines as 'poblacion', you will find the weekly market. From first light till about 10.00am the local farmers, producers and vendors sell their fruits and vegetables fresh from the farm. Other foods come from the surrounding provinces. In citrus season the oranges are fabulous and over the Christmas months good tasting strawberries are abundant. The local honey which is sold in large bottles on a Saturday is magnificent – runny and aromatic from the flowers. Feel free to taste the various delicacies on offer. I have been eating the food here for years and some of it is really nice. I especially like the combination of freshly cooked warm sweet corn (off the husk in separate nodules) seasoned with fresh coconut, a little sugar and condensed milk. A filling and satisfying breakfast. Other delicacies include sticky rice cakes cooked in oil with sugar and threaded on skewers, sesame balls, banana cake, boiled peanuts. Most confections have sticky rice or camote (sweet potato) as their base. Of course there is the compulsory arrozcaldo or pancit, found in any market across the land. I know there is often a fear associated with eating food from street stalls, but I can assure you I have never had an incident of upset stomach from any meal eaten in Sagada, and that includes the market.
Don't forget to have a look at the wag-wag (second hand clothes) dealers who set up on the street leading from the market. I have bought some of my best clothes from these second hand clothes dealers. You may be surprised. Most of these clothes come from the US and Europe, many are brand new, and there are often famous brand names amongst them. Simple garments are typically P50 each. (see pictures 1 and 2)
Sagada Attractions
Two Guides' Associations - There used to be one only but due to differences in opinion, they have split into two. The original guides' association is at the municipal hall in the center of town and the newer one is just down the road past the Yogurt House. Their prices are about the same and all have only certified and registered guides. Part of their training involves rescue and first aid training. The original association is made up of the more experienced and older guides, where the new association has younger guides. If customer satisfaction is the measure of which is the better association, I have heard that there is no difference. I have been camping with some of the older guides though, and being older, they have many more interesting stories to tell. So take your pick. The guides work on a rotation system that assures all of them equal work.
It is easy to lose your way, so if your schedule is tight, best take a guide. They are not expensive.
Limestone caves - Many people come to Sagada to visit the caves. You cannot go to the limestone caves without a guide. All the guides are equipped with hurricane lamps, so that the cave is well lit while you are underground. The prices are fixed as are the number of tourists per guide.
The Burial Cave - is accessible to most people and can be visited without a guide during off-peak times. The climb down is steep towards the end and probably difficult for the elderly or very young children. This is a fascinating place, eerie and dramatic. Please keep in mind that this place is sacred to the locals, so leave no garbage, cigarette butts etc and do not touch the coffins or try to open them. The cave is marked on the local tourist map (available in guest houses and souvenir shops in town). The walk down the hill is gorgeous. Don't hesitate to ask directions from the locals if you are unsure of the way.
Small Falls – Not far from town, this attraction is a disappointment to many as it is small. Leaping from the top of the falls is a favorite pastime for many of the local children. Not difficult to find, just ask for directions.
The Big waterfall - Bomod-ok – take the morning jeepney to Banga-an (pronounced Bunga –un) and ask to be let off at the big falls. The jeep leaves from the centre of Sagada and the guides association can tell you the times. Find out about the times for return trips too as you will not want to be walking back to Sagada. The walk down the endless stairs is fabulous, the scenery divine. The falls themselves, once you reach them (1 – 1 ½ hours) are predictably thunderous and dramatic. Swim in the freezing waters if you like that sort of thing, but get advice about the conditions from a guide first. Note that a 17 year old girl from Manila drowned there in 2008. Although there were family and other people around, some who jumped in to rescue her, they were not able to save her in time. We have been given two accounts of the story, one that she got her foot wedged between rocks, and the other was that she was caught in a whirlpool.
The climb back to the road is strenuous. The steps seem to never end. Allow a couple of hours – if unfit, add another hour.
Janet Eason's art lessons in Sagada - Learning to draw or paint with Australian artist, Janet Eason, may be a fabulous focus for your holiday in Sagada. The lessons are cheap, especially with larger groups. Click here for more information
Ganduyan Museum - Formerly opened in 1984 to 86, the treasures gathered over many years are once again on display in a newly opened small museum just beside Ganduyan Inn. Since the early 70's, Christina Aben has been collecting antiques, trade beads and artifacts from the Cordillera region of the Philippines. Antique basketry, weapons, farm tools, beads, jars, wooden items and textiles can be seen here. Each display offers an insight into the rich culture of the Cordillera Igorots. Ask if Christina can show you around. Her stories will enrich your experience of the place. If not Christina, then one of her children will always be there to explain the history and significance of the items on display. Entrance fee is P25 each (see pictures on this page)
Walking in Sagada
Walking is one of the great pleasures here. There are no tricycles in Sagada so just strolling around town can be relaxing and picturesque. With only 3 roads it is difficult to get lost and friendly locals are always happy to help if asked.
The pathways and Dap-ays – behind the main roads are a network of narrow pathways, mostly cemented, that connect the houses and villages that make up the municipality of Sagada. To get a real sense of the place you can follow these and discover the various dap-ays (meeting places and sites for rituals, such as the bugnas) as well as the ambiance of suburban life. The dogs will bark like hell because you will be a stranger in their midst and some may look fierce, but these animals will not attack. A dog that attacks a human is dead meat. You cannot get lost following the paths as the main roads are never far away. These walks are pretty, accessible and easy. You will be out in the sun so take your umbrella for shade.
Pathway to Datil – On the road behind Saint Joseph Rest House car park there is a pathway leading off to the right which will take you through the gardens and rice fields behind the town. This is a lovely walk. A couple of hours at most would be required for a casual stroll, depending on how far you want to follow the path (which eventually does run out). See picture 4
Mt Ampacao – Lake Danum – Banga-an ridge walk – There are two walks to take, one from Lake Danum to Mt Ampacao, the other from Banga-an to Lake Danum. Each one follows the ridgeline of the mountain range and offers some spectacular panoramic views as well as the usual pleasures associated with walking in natural forest and grassland. Take lunch and water, sun and rain protection and a guide. These walks are difficult without a local guide as many paths thread through the mountains and getting lost would be a real possibility. Both walks are well worth taking if you are in town for a while. I have done both, so being super fit is not required – it just takes a little longer. The guides are surrounded by this beauty all of the time, so do insist on taking your time, stopping for lunch or to admire the view, otherwise your guide may race you through it all in a couple of hours and that would be a pity. See pictures 10 to 12
Kiltepan – On your way into town you will have passed the sign to Mapiya-ao Guest House. From that side road there is a path on the right (that I haven't taken) leading to the top of the hill called Kiltepan. Locals can show you this, or ask at the guest house further up the road if you have missed it. When you reach the top, pass over the grassy open space, heading to your left. There you will find a path to follow for just 20 metres or so. To your left are little paths leading down to some rocks, where you can sit and ooo-ahhh at the spectacular scenery and endless mountain panorama. This is a favorite place for me to bring guests in Sagada. Camera heaven. See picture 3
Echo Valley - It is best to take a guide although not necessary. Go in the morning before it gets too hot. Give yourself a few hours to wander, look at hanging coffins, sit by the river, get sort-of lost, walk through the tunnel of the underground river (Take a big torch with good batteries – the caverns are vast). There are lots of paths in echo valley and easy to take the wrong turn. Just remember there are 3 caves – one is dry, the second is where the river enters the underground caverns and can be entered only for a short distance, the third is where the river flows under Sagada to the other side of the hill.I found a way back into town by retracing our steps from the last cave for about 50 meters, then followed a track leading up the hill on our right. We came out behind the Caltex gas station on the main road. You can pass through the underground river and find a path on the other side which takes you back to town, but be prepared to wade through quite deep water at the far end and be careful of the very slippery rocks you have to climb to get out – it is not easy, but we have done it. DO NOT attempt to follow the underground river after heavy rains. Two people drowned in this cave in 2004 during a typhoon.
Trekking, Camping and Staying for a While
Buasao - ( pronounced bwa-sow ) A place I have camped most at and is a 5 ½ hour walk for me from Banga-an (pronounced bunga-un ), carrying everything I need for 3 days, including shelter. The path passes through pockets of old mossy forest, crosses streams and a river, climbs and ends on a flat patch at the centre of which is a curious stone structure. Next to that we make our camp. Many wonderful days and nights have been spent around the fire at Buasao. Adventurers can set off from there on further explorations and day hikes. A local guide is essential and we would recommend Allen Bugnosen. There are many more destinations and it is possible to trek for a week or more without leaving the forest. See my article on Buasao.
Mountain Biking - This is not my thing but enthusiasts come from all over to play in the mountains around here. If this is something you would like to explore, call Steve (+63 919 698 8361). He is the local expert and may be happy to have you join him on some rides.
Besao - (pronounced bess-ow) is a relatively small town 7 km away over the mountains. On the way you will pass on your left the turnoff to Lake Danum, a pond of absolutely no interest but a favorite picnic spot for the locals. I always enjoyed these short exploratory trips as the roads wind through lovely mountain forest country and cultivated fields. Besao is well known for its sunsets, though I have not been there at the right time to enjoy it. Dirt road most of the way.
Banga-an and Aguid - are two towns to drive to on the second of three roads out of town, and you will pass the steps down to the big waterfall on the way. Once again, it is not far to drive, but the scenery is nice. Concrete road to Banga-an.
Suyo - is downhill all the way and about 6km from Sagada. Take the road past the municipal hall and take the first left turn, maybe 1km down. Follow it all the way down to Suyo. You will pass lovely views of the rice and vegetable fields on your drive, walk or cycle through pine forests. A walk through the fields of Suyo is a lovely thing to do if it is not too hot - don't do it at midday. See picture 9
Driving Around Sagada (or Walking or Mountain Biking)
Kiltepan – There is a road going up to Kiltepan which can be found on the left, a couple of km from Sagada on the way to Bontoc. There is a concrete shelter opposite the junction. When forks appear in the road take the one most used. If it comes to a house, it was the wrong one. When you get to the clearing at the top, park. Walk along the path that leads from the left corner. 20 meters to your left is a breathtaking view. Find a rock to sit on and enjoy. Early mornings are gorgeous, as are sunsets and the 'golden hour'. The last, steep, uphill stretches of the road can be slippery.
Mount Ampacao – You need a 4 wheel drive and experienced driver to get up there, but if you can make it is well worth the trip. The peak of Mt Ampacao is the site of a cell phone tower, eerily lit at night, clearly visible in Sagada. To reach the road you drive downhill toward Ambasing. Drive cautiously in Sagada – children playing, dogs, chickens, jeeps could be around any bend. When you reach the Ambasing Elementary School on your right, take the road that runs alongside it and head uphill. Keep going up, closing gates behind you, until you reach the grassy clearing at the top. The actual peak and tower are higher still – not accessible by car. Find a good spot to park where you can see the view back towards Sagada. You may need to walk a little around the hillside to get the full impact of the view, in which case you should turn on the car alarm. On one of my visits mischievous boys were playing around the car and fortunately set off the alarm. Your other choice is to take someone who is prepared to stay with the car, like a lad from the guest house or a guide.
Things to buy in Sagada - Pasalubong
General - There are lots of little souvenir shops selling low cost trinkets and local products to take back as pasalubong to Manila. (Filipino's have to take back small gifts, called pasalubong, for family and friends when they have been on a holiday, or face being called "kuripot", which means "a tight one".)
Ganduyan Souvenirs - Commissions work from Kalinga - beaded bags and purses – very nice – also, the fantastic headgear of the head-hunter, made by an old man who has always made these ritual symbols of the warrior's success – expensive, large, but extraordinary! I have one but am not entitle to wear it until I have taken a human head. Traditional basketry has always been a favorite of mine and I have found Ganduyan to be the best suppliers, from where I have bought many. Their weavers copy the traditional designs and their work is very fine. The basket weavers, however, are getting old and the rattan baskets are becoming very scarce and may shortly disappear altogether. Prices in this shop are fixed.
Sagada Weavers - is famous for its sturdy locally woven cloth which is made into backpacks, overnight bags, smaller bags and purses, wallets – all kinds of things. A local industry worth supporting. Many other shops now sell locally woven cloth and bags, backpack, wallets etc
Pottery - There are locals and foreigners who produce fine pottery from the local clay. It is OK to visit their workshop which is about 1.3km from the centre of town on the road to Besao. It is on the right and a little obscured. Lovely views on this walk. Even if no one is there it is OK to look around. Please, please do not touch the work. There is a small shop on site and very nice pottery is on sale if someone is there. Also have a look at the shop under Travellers Inn where Lope Bosaing displays and sell his pottery. He is a very keen and fine potter and would be able to give some good insights into what to look for and to buy.
Masferre's - 'A Tribute to the Philippine Cordillera' - is a book of black and white photos taken by Masferre, a resident of this town during the late 1930's, 40's and 50's. The images are beautiful and have captured the people of this region in a way that is no longer available to the photographer. Have a look at the book – a wonderful souvenir of this unique region. Masferre's Restaurant displays many of his pictures on the walls.
Available generally - Arabica coffee, locally grown and roasted, available as beans or pre-ground.
Mountain Tea, harvested from forest trees, leaves are dried whole and sold by the bag. An aromatic brew, caffeine free, very nice boiled with lemon grass or on its own.
Rice and fruit wines – guava, lemon, pineapple, mulberry, strawberry, rice, persimmon, anything really can be made into wine here. Low alcohol content and sweet.
Important Dates to Keep in Mind
Any public holiday or vacation in the Philippines is met with a mass exodus from Manila. This means guest houses are full, restaurants are full, the caves are full, the roads are choked etc etc. New Year, Easter, All Saints day, Labor Day – stay away. School and university holidays can present problems, but students most often choose the cheapest options.
The town fiesta - occurs on the first weekend of February, plus the Thursday and Friday before. People from all of the surrounding villages and towns come to trade, to buy and to enjoy this opportunity to mix and mingle. Vendors descend in their hundreds. The Fiesta usually opens with a cultural presentation, which always involves gonging and dancing. Games are played, plus the fabulous tug-o-war between men of different villages. Women usually get a chance in the open category. For those who enjoy the culture of the fiesta in the Philippines and don't mind the crowds, this can be an interesting time in Sagada.
Getting to Sagada
Hire Van - Unquestionably, the best way to get to Sagada is by hire van, especially for those who would or could not go by public transport - e.g. a little frail, travelling with a baby, the public transport is out of your comfort zone, etc. There are no airports anywhere near Sagada so bus and private vehicle are the only options. The travelling time from Manila to Sagada is roughly 12 hours. The first 6 hours will get you to Baguio, and there are luxury coaches that also ply this route - Victory Liner is the best choice. The second part of the journey will take you along the Halsema Highway with stunning vistas almost all of the way to Sagada as the road winds over a mountain range reaching a maximum of 7,000ft. There are so many beautiful places where you would want to stop and go "wow", which you can't do by bus. Going by van then leaves two options, one is to get picked up at the airport and go all the way to Sagada by van, the other is to go by bus to Baguio and take the van from there. If you would like to go by van, I personally recommend these people. Click here to get the costs and more details.
From Manila to Baguio and onto Sagada by Bus - When going to Sagada, I always catch a Victory Liner bus in Manila at about 11pm, which gets me into Baguio at about 4am. I prefer the deluxe coach which has onboard toilet and does not stop along the way. This way I get some sleep. They have buses going every half hour from a number of locations in Manila, but only several are deluxe. The closest Victory Liner bus terminal to the airport is at Pasay. Regular bus is P450, deluxe is P700.
From the Victory Liner terminal in Baguio catch a taxi to the GL Liner terminal - just tell the taxi driver you are going to Sagada, they all know which terminal to take you to. Taxi is about P50. You can get some coffee and breakfast at the GL liner terminal while you wait for the first bus to Sagada.
The first GL liner bus leaves at 6:15am and the last at 1pm. Here is a picture of the schedule, which includes buses to Bontoc. The trip typically takes 6 hours and the best views are on the right hand side of the bus (left hand side going back to Baguio). There are two toilet stops on the way and the stop closest to Baguio is also an eating stop. Going back to Baguio, the first bus leaves Sagada at 5am then 7am and several more usually, with the last being at 1pm. The Bus has neither aircon nor luxury. See picture view from the Halsema Highway.
Bontoc to Sagada - Regular jeepneys to Sagada leave from a side street just off the main road in Bontoc. Anyone you asked could tell you where. The first jeep leaves at 8.30 am, then on a regular basis after that until 5.00 pm. It leaves when it is full. The trip takes 45 minutes. If you are very lucky you may find the front seat unoccupied (indicated by no bag or jacket on the seat). Leave a bag of some kind if you want to wait elsewhere, as this will reserve the two best seats for enjoying the fabulous views between Bontoc and Sagada. In the back section, of course, you have lots of company and sleeping children, but the views are obscured by small windows and fellow passengers. The other alternative is the roof. This is a popular and sometimes necessary mode of travel and I would guess the best way to get the full impact of the terrain and its beauty. Beware the hot dry weather! You will most definitely eat a lot of dust on the way up the hill if you sit on the roof in summer. Parts of the road are still a very rough ride.
Jeepneys leave regularly for Bontoc, where you can take other transport on to Banaue or Manila. Last jeep leaves at 1.00 PM. If you have the time, spend a few days in Tinglayan (via Bontoc).
Other Information
Curfew - Sagada has observed a 9.00pm curfew for decades. This is a farming community and most people are up before dawn to go to the fields, so closing down at 9.00pm makes a lot of sense. The stores close, the restaurants stop serving food and the streets become quiet. The curfew is also a way of controlling public drunkenness – a problem in many other towns. People can do whatever they like within the walls of their homes and most restaurants will remain open until you leave and not pressure you to do so. There is no problem about being out after 9.00 or past midnight. It is just very quiet. "Curfew" can conjure up all sorts of images and often tourists are troubled by it. There is little to worry about in this paradise.
Noisy Drunks - If you look like a group of people who want to make a lot of noise and drink soju, gin or anything else until the early hours of the morning, don't be surprised if all of the accommodation is booked out, even in the low tourist season. You may even find that although you booked, there appears to be no record of the booking. People come to Sagada to enjoy the peace and tranquility, so better choose a different destination than Sagada and try your luck there. To you this may be a tourist town but for 99% of the people living in Sagada, this is a farming community.

| | |
| --- | --- |
| Cell Phone | Smart and Globe (also SmartBro Wi-Fi) |
| Internet Café/Wi-Fi | Internet cafe's everywhere - typically P40 per hour - many cafe's and guest houses have free or low cost Wi-Fi. |
| Electricity | 24 hours - sometimes power is lost during typhoons and may be out for many days. Except for Masferres, no backup power anywhere, even at the hospital. |
| Banks or money changers | Only one small bank, the "Rural Bank of Sagada" - will change US$ but the rate will not be good. Best to do it in Manila or elsewhere. There is a lone MEGALINK automated teller machine inside the Rural Bank of Sagada with access during banking hours only - open Tuesday to Saturday. It dispenses a maximum of P5000 per transaction at a cost of P35 or P55. Note that it will not accept any foreign credit cards. |
Click on the links for Other North & Central Luzon Locations or Art in Sagada