Puerto Princesa and the Underground River - Travel and Accommodation Guide

Updated August 21, 2012
Puerto Princesa Underground River
On November 11, 2011, the Puerto Princesa Underground River was was declared one of the 7 natural wonders of the world by New7wonders. This has increased its tourist numbers significantly, which means that you have to book well in advance to do the underground river tour - typically 2 weeks to a month in advance. For detailed information about the underground river tour, click on the following link. - Underground River Travel and Accommodation Guide . The Underground river is located in Sabang, a town 80km out of Puerto Princesa City.
Puerto Princesa City
Puerto Princesa City is the capital of Palawan and is a pleasant, albeit busy, commercial center. It is often merely a stopover for tourists heading off to other famous Palawan holiday destinations. I have found many things to like about this city, including some fantastic restaurants and cafes. Puerto Princesa City still has some of its exotic character as an old port and fishing city.
Navigating your way around "Puerto", as the local call it, is simple. The main road is called J. Rizal Avenue and almost everything of interest to you is on it. It runs EW and the part of interest to you starts at the Airport entrance in the east and ends at the pier less than 3km away to the west. On Rizal Avenue you will find most of the restaurants and cafes, the immigration office, banks, souvenir shops, the tourist office, etc. Although the walk down the main street is interesting, it is not particularly pleasant because there is no footpath as such and you will end up having to walk amongst the traffic which can be heavy at peak times, but certainly not heavy by Manila standards.
Transportation around town is mainly by tricycle. The cost is P7 per person for short trips around the city center. From the airport to your lodgings, expect to pay about P50 for the tricycle. You can also just walk 100 meters out of the airport to Rizal Avenue and catch a tricycle there for the P7 per person. There are no taxis in Puerto Princesa, but vans can be hired if you want to go around the city, or anywhere else in Palawan.
Puerto Princesa is the name of the municipality which covers about 2,540 square kilometers. Its capital is Puerto Princesa City. To the locals, the city center is called Poblacion. When something is stated as being in Puerto Princesa, check that it is not some 100 kilometers away from the city center.
Many of the shanties on the bay are being removed to make way for the Baywalk and to beautify the city's coastline. Have a look at the two videos of Baywalk - Videos of Baywalk. I often walk there in the early morning or evening as it's the only bit of the coast where one can actually do that.
There are more pictures in the Puerto Princesa picture gallery
Cafes, Restaurants and other Places to Eat
General
You might be delighted to know that there is abundance of cheap fresh food and great restaurants in Puerto Princesa. For those on a tight budget, you can walk around the city streets and find many small canteens where you can get a good meal for P40 to P60. On one occasion I bought three serves of Paksiw na Isda - fish in vinegar. This dish traditionally consists of fresh galongong (small fish) wrapped in banana leaves and cooked in vinegar with chili, onion and ginger. Although the liquid was a little too salty, the fish tasted fresh and delicious. This huge meal with twelve large sardine sized fish and a generous serving of rice cost P39. There are also numerous canteens in and around the Puerto Princesa public market, although it can be a bit hot in there on some days.
I often buy yellowfin tuna from the public market to have as sashimi. You can buy Kikkoman soy sauce from NCCC and Wasabi from Ramtan. The fresh tuna is often around P100 a kg (if you look Filipino).
For the unsophisticated palate, there are also Jollibee, Shakey's, Dunkin' Donuts and Chow King on Rizal Ave near NCCC
Kinabuch Grill
A great place for your evening meal and it would be my first choice if I only had one night in Puerto. I have been there many times and have found the food and service to be consistently good. Kinabuch Grill is set in a garden with seating for more than 200 people, which in the peak season they seem to have no trouble filling. Besides a number of pool tables, there is also a bar where you can have a beer or whatever and maybe meet other people - locals, expats and travelers. My first visit was pleasantly memorable - the grilled pusit (squid) was delicious and tender as was the large grilled blue marlin steak. I also enjoyed the green mango salad, a traditional Filipino dish served with a fermented shrimp past called bagoong. The salad is cheap so give it a try. Bagoong is supposed to be an acquired taste, but the one served here is easy to like. The menu is extensive and includes fish and meats. Expect to pay about P300 a head for a well sized meal. Situated on J Rizal Ave, about 1km west of the airport (towards the city center).
In the year I have been staying in Puerto Princesa, many people have been to Kinabuch on my recommendation. All of them spoke well of the place, their food and their service. I have also been there many times myself now and have yet to find fault.
Badjao Seafront Restaurant
(No relationship to the Badjao Inn - just similar name) - This place has a superb setting and the food is also very good. The restaurant sits on stilts in about three feet of water amongst the mangroves near the mouth of the ocean channel leading into the bay. The best time to go is during a full moon when there is a clear sky, so that you can really appreciate the setting. Alternately arrive in the late afternoon before dark and watch the sunset. They are also open for lunch. Seafood is the specialty and there is a large range of fish, shellfish and crustaceans on the menu. Expect to pay about P300 a head for a reasonably sized meal. Getting back from the restaurant can be a bit of a hassle as the tricycle drivers will want P80 to P100 to take you. When you go to the restaurant, they will likely give you a spiel about how there are no tricycles to take you back, so you better pay him P100 an hour to have them wait for you. Just ignore all of that because there are usually lots of tricycles waiting. You could also walk the 250 meters back to the main road along the path. At night you will need a torch because the path is unlit and sometimes a little muddy in places. The restaurant is open from 10am to 10pm.
Itoy's Specialty Coffee Haus
This is a good place to have your early breakfast and coffee as opens at 6 AM. The best thing going for Itoy's is its pleasant cafe ambiance. They also have tables in the outside garden. The service is friendly and fairly efficient. It is the best place for a coffee in Puerto Princesa. The cappuccinos are OK and cost P50 for a single shot or P75 for a double. The menu is extensive and i usually order the double decker vegetarian sandwich which costs costs P90. Pork Adobo is P64.They have free Wi-Fi. Itoy's is located on J. Rizal Avenue, just around the corner from NCCC past Jollibee.
Chef Tan's Kitchen
Serves Hong Kong Cuisine. . The prices are very reasonable and dim sums cost between P50 and P60. Six fried dumplings were P60. Main courses averaged about P150. I particularly like it that Jackson Tan, the chef, does not use monosodium glutamate (vetsin) in any of his cooking. on my first visit, I ordered dim sums of shrimp siomai, chicken feet, Shanghai dumplings, fried dumplings and other dishes, and they were all superb
There is seating for about 80 people and the decor is nonexistent (as is typical with Hong Kong restaurants), but everything is very new and clean, (which is untypical of most Hong Kong restaurants). I'll be going back again. They also do takeout and you can phone in your orders. I scanned their price list and you can see a copy of it by clicking here.
Chef Tan's Kitchen is located a few hundred meters south of the Airport entrance. As you walk out of the airport center gate, you neither turn right nor left but take the street across the road and head down it until you reach Manalo Extension. The intersection you reach has 5 branches and you veer slightly right to go down Villarosa Road for about 50 meters. Tel 0921 7277889 or 048 7253191
Tom Tom Club
This bar/restaurant is owned and run by Tom Tom, a Swiss guy. It has been operating for many years. They have a good selection of music and the sound system is of excellent fidelity.When I want a nice medium rare steak, this is where I go. Tom Tom club is located in the vicinity of the airport entrance on Manalo Extension. If you are alone, catch a tricycle to get there because it is in a back street and a little difficult to find at night. – Tom Tom is closed on Thursdays.
Viet Ville Restaurant
It about 15km from the center of Puerto Princesa, on the highway to the north. The food is authentic Vietnamese and has been consistently good over the years that I have been going there. I always enjoy the beef stew soup. It is spicy and not too hot. The spring rolls are good too. The Vietnamese bread is particularly good and I saw a businessman buying a huge bag of it as pasalubong (gifts) to take back to Manila. The mango shake I had was more like a mango smoothie, but very delicious and I would be happy to go there again just for that. This village was a settlement created in the 1970's to accommodate some 3,200 Vietnamese refugee families. Today there are only four left as the others have moved to Canada and the US.
Divine Sweets
They have a large range of cakes for those that have a sweet tooth, which I don't, and the coffee is nice. Besides cakes, tarts and pies, their menu includes a wide range of breakfast, lunch and dinner meals, both Filipino and foreign. Divine Sweets is equally popular with local foreigners and Filipinos but most tourists don't know about the place. There is Wi-Fi and it is free. Open from 7AM to 10PM and situated in the side street on the eastern side of Mendoza Park, only about 30 meters from Rizal Ave. The service is usually slow when there are more than a few customers.
Ima's Vegetarian
They serve simple fresh vegan and vegetarian dishes at a low price by restaurant standards. There's no glamour here and the service happens at a tranquil place. Ima's was recommended to me by a vegan who spoke well of the food, although I found it a little bland. Pasta dishes are P60-P75 - Burrito P70 for large - Tofu burger P60 - Vegan sandwich P55 - Ginger tea P20 (very nice) -pineapple shake P35 - 10 inch Pizzas from P85 to P130 - chilled mixed fruits P50.
Ima's Vegetarian is centrally located on Fernandez Street just north of Manalo Street, on the side opposite the Capital buildings. Open from 9am to 9pm but closed from 3pm on Friday to 6.30pm on Saturday.
Kamarikutan Kapi at Galeri
It is a combined art gallery and restaurant and the paintings and other artworks are for sale. The name translates to "Wilderness Coffee Gallery". The natural vegetation in its large garden creates a wilderness ambiance. It is open from 8AM till 10PM and serves good brewed coffee. The cuisine is limited to all day breakfast. Their menus must be the oldest in the Philippines and prices have not changed for many years. They have recently added a 10% service charge and you can see a picture of their menu by clicking here. The service is very tired though and one gets the impression that the owners lost interest in the place many years ago, about the time of the printing of the last menus, but the staff just keeps plodding on. It is on Rizal Avenue only about 100 meters from the main entrance to the airport, heading out of town. tel +63 48 433 5182. If you have time to kill between your hotel checkout and when your flight departs, this may be a very convenient place to do that.
Bruno's
Located in a side street opposite Mendoza Park. It is the only continental delicatessen in Puerto Princesa They serve lunch and dinner and the menu includes sausages, steak and pasta. Bruno's is especially popular with the German speaking locals.
Kalui
It's famous for its ambience and is one of the best know restaurants in Palawan. I have not enjoyed their food nor service, and few foreign tourists that I have asked have spoken well of it.
Shopping
Robinsons Place Palawan
Opened in May 2012, and will change the face of Puerto forever. This is the first modern mall with cinemas to come to Palawan. The mall includes a Supermarket, Department Store, Banks, a food court, al fresco dining and 4 cinemas, including a 3D cinema.
NCCC
It was the largest supermarket and department store in Puerto. The locals call it NC. It has a large range of beachwear, backpacks, mosquito nets and anything else you may want for you stay in Palawan. It is located about 100 meters behind J. Rizal Ave. on the southern side, just behind Jollibee. It is open 7 day a week from 8AM to 7PM.
Ramtan
on Rizal Avenue opposite Mendoza Park. This small store has an excellent range of groceries, including Wasabi. I often shop there when I only want to buy only a few things.
Things to do in Puerto Princesa City
Walking
Feel comfortable to walk around at night as this is a low crime city. Back streets are also well lit, an unusual phenomena in the Philippines. There are heavy penalties for littering so the city center is litter free.
I love walking in Puerto which I mostly do early in the morning when it is coolest, and I usually set out around 5:30AM, just before first light. A two and a half hour walk of about 12km will take me from the pier at the end of Rizal Avenue to the ocean at the other end of Rizal extension. The best walk is along the southern side or Puerto City, keeping as close to the ocean channel as possible - Bonifacio Street and Abueg Sr. Rd. Feel free to explore the narrow lanes and boardwalks and see where they end. Take sun glasses and hat or umbrella because the early morning sun can be quite blinding. Stay away from the northern side around Malvar Street as there is lots of traffic from early morning and the air is filled with the exhaust from smoky tricycles.
I particularly enjoyed a short walk along the narrow boarded paths around the fishing village built on stilts over the ocean, directly across the road from Manny's guest house. The people were happy to talk and tell me about their lives as poor fishermen who have been living here for some 20 years. This has been one of the highlights of my stay in Puerto Princesa. They will soon be relocated to a new area to make way for the "Bay Walk" that is currently under construction. For me, the real Palawan is to be found around the boardwalks of the fishermen's villages with their bamboo and rattan structures, more so than around the cemented walkway of the concrete seawall called Bay Walk.
On one early morning walk around the back streets around the pier, I wound up at the end of the bay walk near the public market, and watched the fishermen unload their fish. They had big catches of blue marlin and yellow fin tuna. Most of the tuna was to be exported to Japan and the US I was told.
Immaculate Conception Cathedral
It stands on a hill near the pier and its spires serve as a landmark for navigating your way around Puerto. It is very popular with Filipino Catholics but it has little tourist value outside of that. The picture shows the statue of national hero Jose Rizal in the foreground which seems rather ironic given the scorn he leveled at the Spanish priests through his 1890's revolution inciting novel, "Noli Me Tangere".
Plaza Cuartel
This is a beautiful park by Filipino standards and is located right behind the Immaculate Conception Cathedral. It is definitely worth including in your morning walk if you are in Puerto Princesa long enough. The park is dedicated to the 143 American soldiers who were doused with gasoline and burnt alive here by the retreating Japanese Army at the end of the second world war. The memorial marker reads "FOR THE 143 AMERICAN POW - A grim reminder of the realities of war as a price for freedom and the burning to death of 143 American prisoners of war by the Japanese Imperial Army Kempie-Tai captors inside the tunnel on this site on the fateful evening of December 15 1944" There were some 11 POW that lived to tell the tale. It is eerie to look at the entrance of the tunnel and imagine the horror faced by those POWs.
Puerto coastline tour
Take a tour around the Puerto coastline and discover some of the interesting fishing communities. These places are all to be found within a 3km radius of the city center. A quick look at the map will show you that Puerto Princesa City is surrounded by ocean on three sides. I did the drive in my own car, but you could hire a van with driver or rent a motor scooter. You could even hire a tricycle for half a day. There are places everywhere to stop and look, take pictures, eat, drink or chat with locals. There are also lots of high-end and lo-end restaurants dotted around the Puerto peninsula so consider having lunch on your outing.
Baragatan Festival
A yearly event which lasts all of June. The major event is the dance performance competition where many of the Palawan municipalities compete. The event is famous for the beautiful and stunning costumes, make-up, dance performance and sheer energy. See my picture gallery of the 2009 Baragatan Festival.
Puerto Prencesa Underground River
Probably the most popular activity out of Puerto is the day trip to the Puerto Princesa Subterranean River National Park in Sabang which is 80km away. The underground river day trip is P1500 fixed price and includes all costs - hotel pickup, park entrance fees and lunch on the beach. Any guest house or hotel will gladly book this for you. If the park is not too busy, you can expect the whole trip to take about 7 hours. If you are on a tight schedule, beware that bad weather or peak season can stretch out this 7 hours to many more. If you have the time, I would highly recommend that you spend at least one night in the seaside village of Sabang and do the underground river tour from there. For more information click here - Travel Guide for Sabang and the Underground River
Tours and things to do Around Puerto Princesa
Honda Bay Island Hopping and Snorkeling
There are a number tour packages to Honda Bay where you can choose your own islands you wish to visit. It is a full day activity. The tour package costs P1100, and for that you get picked up from your hotel or guest house, and includes lunch on the beach. Most people speak well of this tour but it is most popular with tourists who have only a few days to spend in Palawan, which is often the case for Filipinos. Maybe skip Honda Bay if you are going on to Port Barton or El Nido.
Dolphin watching tour
This is a half day tour and cost P600. It can be organized through your guest house or just go down to the Baywalk and organize it yourself from there.
Tubbataha Reef Marine Park
Puerto Princesa is also the departure point for those going to dive at the Tubbataha Reef Marine Park, which is one of the best diving spots in the world. It is also a UNESCO World Heritage site. Philippines weather allows for only a short Tubbataha diving season, which is from late March to early June. This is a liveaboard tour of typically between 5 and 7 days. The tour will cost approximately P10,000 a day but there is also a park entrance fee of P3000 a day each. The tour will usually include all meals, tanks, etc. Click on the following link for more information about Tubbataha Tour Operators.
Fishing and Game Fishing
You will see from my pictures that there are lots of yellow fin tuna and other fish being caught around Puerto Princesa. If fishing is your thing, especially big game fishing, then Puerto Princesa might be a good destination. The yellow fin tuna here get to over 50kg and are renowned for putting up a good fight. I have asked the local fishermen if it is possible for me to go out fishing with them but found that this approach doesn't really work. It then occurred to me to ask Manny about how to go out fishing given that his Guest House is right next to the fishermen's village. Of course he knows many of the fishermen and said that he can organize a trip in a small boat or he can charter a larger boat that can take many people. He has arranged trips for guests before and I am now planning a trip through him also but will wait until the typhoon season is over. Even if Manny's guest house is not your type of accommodation, you can still organize any of your fishing trips through him. For his contact details, see Manny's Guest House above.
Getting to Puerto Princesa
By Air
There are 22 flights daily into Puerto from Manila and one from Cebu, so getting there and back is easy. Cebu Pacific, Philippine Airlines, Airphil Express & Zest Air all have regular flights to Puerto Princesa. Note the low baggage limits of the discount airlines.
By Sea
There are no more passenger ships going from Manila to Puerto Princesa. (But that changes often)
Commissions for tricycle drivers
A word of warning about catching a tricycle or van from the airport to your accommodation:- they may take you to a different place than where you requested because they will get a commission for it. There is no commission for taking you where you want to go. They may tell you that they know a better place but rest assured that the commission is foremost on their mind. Make sure they are clear about your destination and insist that that take you there only.
The San Jose Terminal - Buses and Jeepneys out of Puerto Princesa
Almost all buses and jeepneys going to elsewhere in Palawan will leave from the San Jose terminal, near the New Market, about 7km out from the center of Puerto Princesa. Regular mini jeeps will take you there for P10, or hire a tricycle at about P30. Pictures of the terminal can be seen on the Puerto Princesa picture gallery
When friends ask me how they should book a tour or van, I would recommend they do it through Manny from Manny's Guest House. I have seen him arrange numerous tours, trips and airport pickups and have yet to hear a complaint. He is very keen to make his small business a success so you will get good service. Manny has two vans himself. If these are not available, or not suitable for your requirements, he will find another one that suits your needs through his extensive network. You won't pay any extra for this service.
Van rental rates with driver
Prices below are from Manny and include all costs for a 12 seater van.
Daily van hire to Sabang (Underground River) - P3,500.
City Tour - P1,500 for first 4 hours and then P300 per additional hour.
Honda Bay - pick up from lodging to Honda Bay and afternoon pickup and return to lodgings P1,500.
Tours
Honda Bay Tour - P1,100 per person - includes lunch and hotel pickup.
Underground River Tour - P1,500 per person - includes lunch and all park and tour fees.
Manny's contact details for van hire:
Puerto Princesa landline +63 48 723 3615, Manila landline +63 2 998 6603, Smart +63 912 872 1294, Globe +63 917 612 3947.
Email emmanuellucena@yahoo.com.
Puerto Princesa City Accommodation
General
There are currently four standard class hotels in Puerto Princesa City and some 57 other accommodations ranging from nice air conditioned rooms to low-end backpacker accommodation. You may get a better sense of this city if the place where you stay has a bay or ocean view, especially given that it is surrounded by ocean on 3 sides.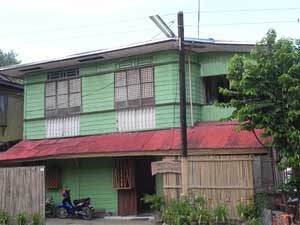 Manny's guest house.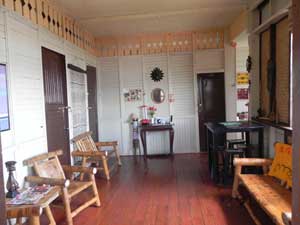 Common room in Manny's guest house.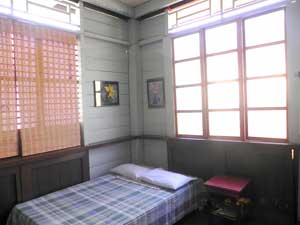 Bedroom 2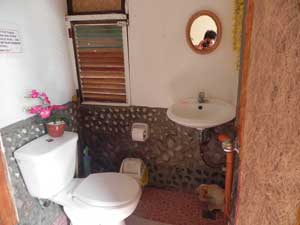 Toilet (CR)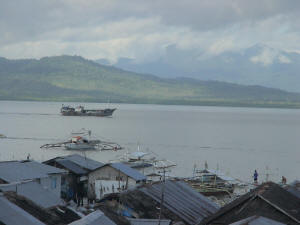 View from window of Manny's Guest House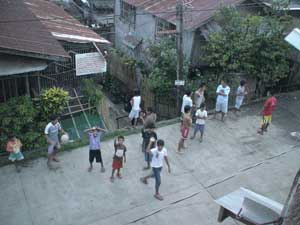 View down to the street from Manny's Guest House
P400 to P600 - Probable the best value backpacker or homestay accommodation that you will find in Puerto Princesa. I stayed here on and off for three months and highly recommend it. Manny and Carmela are good hosts and they go out of their way to make sure your stay is a pleasant one. There are three spacious 2nd floor fan rooms in an old Spanish style timber house with some of the capiz windows still remaining. The largest room has a double and two single beds and costs P600 per night. The other two rooms both have double beds and the cost is P500 a night and P400 for the smallest one. The cool ocean breeze in the evening makes for a comfortable night's sleep. The large common area has wonderful views over the bay. It has two share bathroom, and for those who like to cook their own food or make their own tea or coffee, there is a small kitchen area with sink and gas cooker. If your thing is to sit around late at night, partying, getting drunk with your friends and making lots of noise, then this is not the place for you. Manny's has also become popular for large Filipino family groups, who often take over all three rooms and save money by cooking their own food. See pictures 3 & 4.
Manny's Guest House is located near the center of town, only about 300 meters from J. Rizal Avenue and 700 meters from the pier. The address is number 2, "B. Mendoza St.", on the corner of Cuito (also called Reynoso St.). The place is not well known so you will need to tell the tricycle driver the street address. Tours and van hire can also be arranged through Manny. They have Wi-Fi and the cost is P25 per day. Note that you will need to pay a 50% deposit with your bookings during the peak season and in full for the Christmas and Holy week holidays.
Manny's contact details - the Puerto Princesa landline number is +63 48 723 3615, the Manila landline number is +63 2 998 6603, the Smart cell phone number is +63 912 872 1294, and the Globe cell phone number is +63 917 612 3947. Email emmanuellucena@yahoo.com.
Aniceto's Pension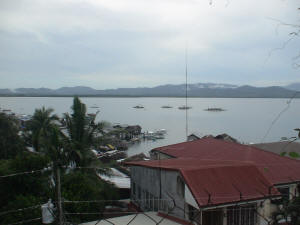 View from roof deck garden of Aniceto's Pension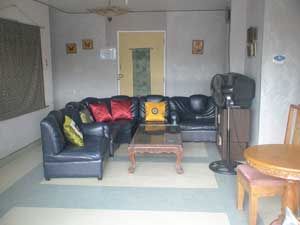 Common room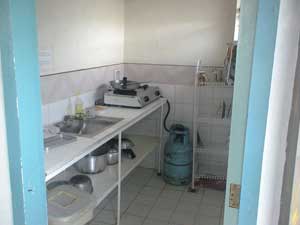 Kitchen for use of guests
Aniceto's Pension - roof deck garden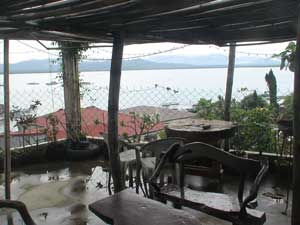 Roof deck - (rainy day)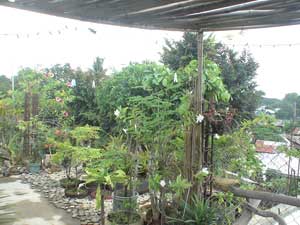 Roof deck garden
P200 to P675. I like this place and the room rates are very good. The only reason I have not stayed here was because there was nowhere for me to park my car. The building is a concrete structure with three stories. There is a nice roof deck garden with great views over the ocean channel. On the third floor there is a small fully equipped kitchen with refrigerator. This is for the use of those guests who would like to do their own cooking. There are fan rooms with share bathroom and also rooms with aircon and private bathrooms. The cheapest rate for 2 people is P300, and the highest is P675 for the family room with aircon and private bathroom. There are quite a variety of rooms and I have a snapshot of all the room rates in this picture - Aniceto's room rates. There are also some lounging areas on both floors and you almost get the feeling that the this is someone's private house. Aniceto's is a popular guest house so you would need to book, especially during the peak season. It is not far from Manny's Guest House and about 300 meters south of Banwa. The address is 71 Reynoso Street, Puerto Princesa City. The landline number is (048) 434 6667. Cell Phone numbers are 0917 789 4664 or 0927 205 9782. They also have Wi-Fi.
Dallas Inn
P400 - P600 - Your host is Oring, an interesting woman who has lived most of her life in Batanes. She opened this 6 room guest house in November, 2009. The location is excellent as it is in the street directly behind the heart of the city and within walking distance of the public market and NCCC. The accommodation comprises two 2nd story rooms in an old house plus four additional rooms build next to the original house. The two second floor guest rooms in the house are simple fan rooms with a double bed each and share bathroom - the cost is P400 per room for a couple plus P160 per extra person. The rooms are large enough to take an extra double mattress. The other four rooms are also fan rooms but have private bathrooms and toilets. These rooms are quite small but have a double bed each. There is also a small restaurant/sitting area in the garden. They have free 24 hour Wi-Fi. The address is 11 Caradang St., which is a street behind Rizal Avenue, about 50 meters from H. Mendoza St. Tel or text 09199678558. Click on the link see a location map for Dallas Inn .
Skylight Hotel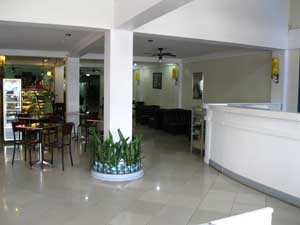 Reception area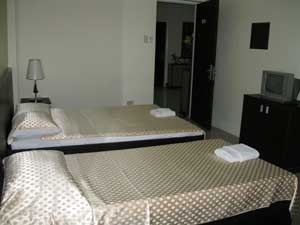 Standard room - room 107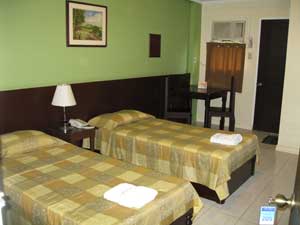 Standard room - room 205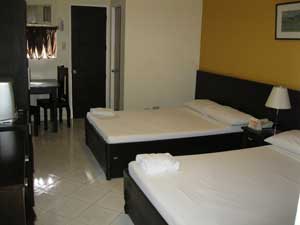 Standard room - room 309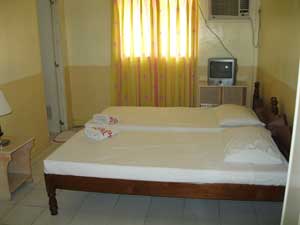 Budget room - room 3
P1,150 – P2,400. A low cost 3-star hotel with a few budget rooms also. I have not stayed here but friends have and they had no negative comments. and particularly like the location and not having to get transport back and forth to the city center. The Skylight Hotel is located on Rizal Avenue, the main street of Puerto Princesa City and you can't get more city center than this. The Budget rooms are in an older part of the building and cost P1,150 per night. I would choose to pay the extra few Pesos and stay in Albon Pension for P1,200, if that were my price range.
Although they have a large restaurant, I suggest that you have breakfast at Itoy's, a few hundred meters up the road (to the left as you walk out of the hotel). There is also Jollibee lf you want a quick something to eat before setting off on your early morning adventure - It is just before Itoy's and you can't miss their huge sign.
Albon Pension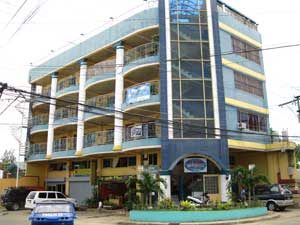 Albon Pension - street view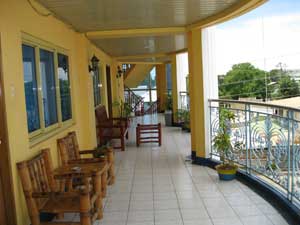 Albon Pension - verandah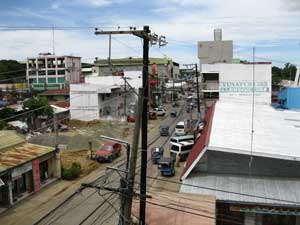 View from verandah looking out towards NCCC (center building in the distance with green roof)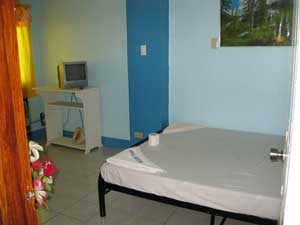 Albon Pension - fan room - P750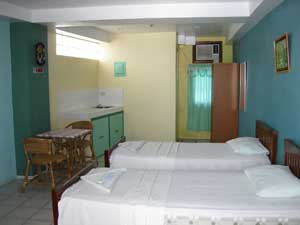 Albon Pension - Standard room - P1,200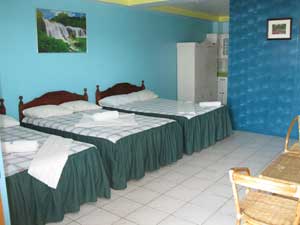 Albon Pension - Family room - P2,000
P750 – P2,000. The aircon rooms are from P1,200 to P2,000. There are a few fan rooms and they cost P750. Although I have not stayed here, the aircon rooms look like good value. The location is excellent if you want to be in the hustle and bustle of the city. Albon Pension is in the city center and it's a short t walk to NCCC for your shopping and to Itoy's for your coffee. A good place to stay if you want a room with aircon and cable TV and you intend to spend a few days in the city . They also offer long term stay and some of the rooms have kitchens for those guests. The Deluxe room, which is not shown here, is P1,800 and has a queen size bed. All aircon rooms have private bathroom, cable TV and hot and cold shower.
Telephone - 0909 4111102, 0919 517 5388. Skype ID: Jeth_06. Email albonpension @yahoo.com
Puerto Pension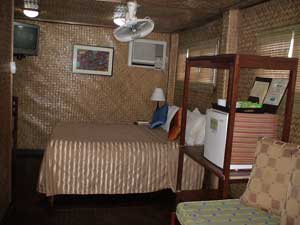 Puerto Pension - standard room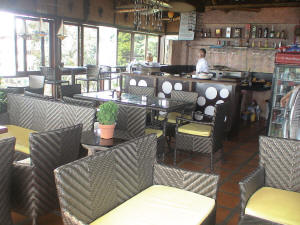 Restaurant on top floor of Puerto Pension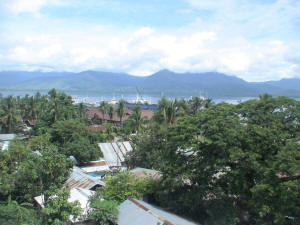 Ocean view from restaurant on top floor of Puerto Pension
P1,060 to P1,680. Nice clean rooms with aircon, Cable TV, hot showers and small fridge - no great views from the windows. Continental breakfast is included in the price. If this is your price bracket, then Puerto Pension is a good choice. The place is popular so you will need to book .There is a restaurant on the top floor with an ocean view looking out over the Puerto pier. This restaurant is open to the public so consider going there for "breakfast with a view" . They are located at 35 Malvar Street which is just off Rizal Ave., at the pier end, about 2 KM from the airport. Tel 63 48 433 2969.
Casa Linda
P800 to P900 - A nice place to stay if you want a peaceful and pleasant setting. I have not stayed here for a while so on May 20, 2009 I had breakfast here. The place still has that lovely ambience that attracts people to it, but as a place to have breakfast I would give it a miss - it is very ordinary. I had the Filipino breakfast for P180. The meal included brewed coffee which was bitter, cooked dried fish, rice and half a mango. It is better to go to Itoy's and have breakfast there - or walk around the market or pier area and find a cheap meal there. The rooms are OK but the beds are a bit small. All rooms have air conditioners. The rate is P800 per night for a single person, P900 for a couple, P1100 for 3 people and P1300 for 4. There is a computer for internet access and costs P40 per hour. Wi-Fi is an exorbitant P30 per hour (Manny's charges P25 for a full day's unlimited access).Casa Linda is near the airport and about a 10 minute walk from the center of town.
Banwa Pension
P250 to P750. I stayed one night and did not like it. I have met travelers though who enjoyed their stay there, and some loved it. That is probably because it attracts the younger low budget backpackers who like to mix with like minded travelers and compare and exchange travel experiences. For them I would guess it may be good. I was in a downstairs bedroom and found it unclean, especially the bathroom. The fluorescent light in my room didn't work and there was no replacement, so I had to do with torch light for the evening. The dog that sleeps across the stairway snapped at me, and I nearly fell backwards down the stairs. The chop suey I had was horrible and cost me P130. I was told that there is a high staff turnover and none of the disgruntled employees seemed to be in charge. I had been to Banwa years ago when it was a beautiful place but it seems to have lost its heart sometime since then. The attraction of Banwa is the beautifully decorated restaurant area which was created by the owner's brother JoJo, the proprietor of Asiano. That is still as impressive as ever. If you do stay at Banwa, you are far better off eating at one of the superb restaurants mentioned above for the same cost as Banwa charges. They have Wi-Fi and the cost is P50 per day. Dorm room- P250. Single room - P350. Double room - P450. Double room with private bathroom - P700 and P750 for the larger one. Banwa is located about 150 meters from Manny's Guest House and also near to Aniceto's.
Other Information

| | |
| --- | --- |
| Cell Phone | Smart, Sun and Globe |
| Internet Cafe/Wi-Fi | Internet cafe's everywhere - typically P20 per hour - many cafe's and guest houses have free or low cost Wi-Fi. |
| Electricity | 24 hours but unreliable - typically a 2 hour blackout every couple of days - most businesses have their own backup power. |
| Banks or money changers | Most of the big Philippines banks are here. BPI, BDO, etc. Almost all ATMs will take foreign cards. They will typically only dispense P10,000 at a time with a maximum limit of P20,000 per day per card. Note that there are no other ATMs in the whole of Palawan, except for one in Coron which only takes local cards, so make sure that you stock up on cash for the rest of your journey. Best place to change your US$ is at one of the banks that you will find on Rizal Avenue or Western Union, but better to do it in Manila where you will get a better rate. |